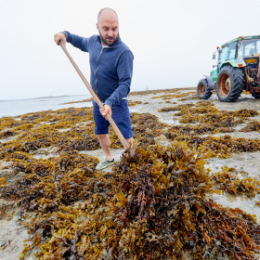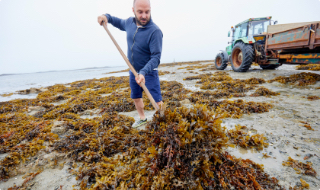 Harvesting Algae
For many years, we have been working in collaboration with a team of seaweed harvesters to harvest algae, around our plant, on the foreshore (portion of the coast between the highest and the lowest seas), at low tide. The seaweed harvesters have an authorization issued by maritime affairs and respect good harvesting practices according to the codes and practices for the preservation of biomass. Depending on needs, they therefore deliver quantities of fresh algae to our production site. This activity is periodic and the harvest is dependent on the times and tidal coefficients.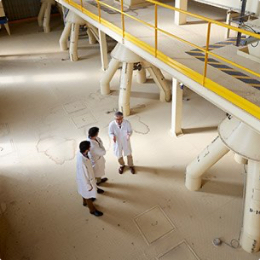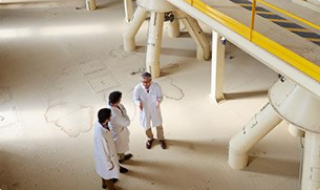 Industrial Know-How
We have complete industrial know-how: from harvesting to processing algae and marine ingredients to the formulation and manufacture of cosmetic powder skincare (peel-off mask, dry shampoo, scrubs, etc.) and makeup. Our industrial site, certified ISO 22000:2018, is equipped with various grinding tools in order to offer a varied range of grain sizes, from large flakes to extra-fine powders. Thanks to 35 years of experience, our industrial teams have developed and optimized specific grinding and micronization protocols adapted to the constraints of each algae, to best meet the needs of our customers.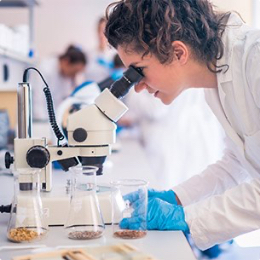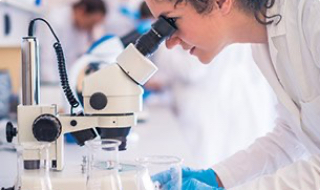 Innovation
Our team are constantly seeking new products and keep their ears close to the ground to identify trends, anticipate needs and develop innovative products.
Composed of 6 people, the missions of the service are the development of new cosmetic treatments, the customization of formulas, the realization of efficiency studies and industrial transposition.
We have our own research laboratory at the Centre Mondial de l'Innovation (CMI) of the Groupe Roullier, located in St Malo (35) and we rely on the CERA (Center for Applied Studies and Research) to develop new industrial processes at the pilot plant.
In addition, we have been working for 35 years with the Center for the Study and Valorization of Algae (CEVA) based in Pleubian. CEVA is a private research organization and technical center, labeled as an Agro-Industrial Technical Institute by the Ministry of Agriculture and Fisheries. CEVA supports our R&D team in the research and development of marine ingredients.
We now have 230 raw materials and more than 1000 cosmetic formulas registered in our database.