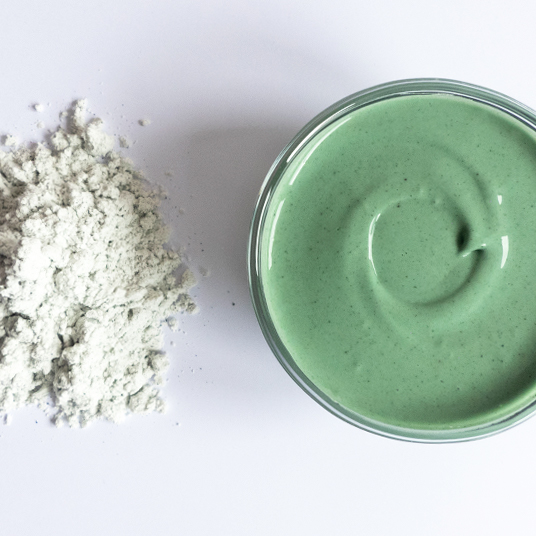 Algae energizing rinse-off mask
This rinse-off mask can be applied to the body or face. It is 100% made from seaweed rich in minerals and antioxidant active ingredients of marine origin, allowing the skin to fight against external aggressions and signs of aging.
89.4% of ingredients from natural origin
REF PRODUCT : F930
Are you interested in this product?

CONTACT US
Composition of the formula Algae energizing rinse-off mask
Spirulina
Spirulina is a blue micro-alga, rich in vitamins and amino-acids. It is well-know and used as an oral dietary supplement. Spirulina stimulates cell renewal. Its richness in anti-oxidant molecules helps to reduce the formation of free radicals, and therefore helps to prevent skin aging.
Lithothamnum calcareum
Lithothamnum concentrates two very interesting minerals : calcium and magnesium (up to 80 % of calcium carbonate and up to 15 % of magnesium carbonate). Topical application of magnesium is recognized for its anti-inflammatory benefits, helping the skin to fight against external aggressions. Also, it contains more than 30 vitamins, amino acids and oligo-elements.
Diatomeous earth
Diatomaceous earth is made of fossilized unicellular micro-algae named diatoms. Diatoms live in seas all around the world, sometimes in extreme conditions (the wider diatom population would live under ice sheet). This organism is protected thanks to a silica rich capsule. Silica is a constitutive element of human cells and tend to decrease with age. Cell aging could be explained by a decreasing of silica concentration. Studies show that silicon deprivation has damaging effects on tissue cells while its supplementation has beneficial effects on them.
Alginate
Alginate is a polysaccharide from natural origin. It has antioxidant properties, which can prevent skin aging and skin disorders, and has healing properties, promoting cell regeneration.
Choosing Nuwen is:

Resource traceability & encourage the local

Protection of our environment

Innovative solutions to enhance natural materials

Controlled production and maximum quality

Packaging adapted to your sales channels